The customer Requirements:
A safe, ESD protected working environment
The flexibility to reconfigure the workbench set up as needs change over time
A way to streamline the manufacturing process
Each workstation to be configured differently for each manufacturing process
After several years of working together on other projects our customer was confident that Kaisertech would be able to provide a solution to meet the brief and would suit all of their needs in each location of the project; Research & Development Laboratory and Production Assembly.
Within the Research and Development Laboratory it was important that the benches were not only ESD protected, but also able to withstand a large weight bearing load. Kaisertech's Cantilever ESD Workbench was the most fitting solution for this area. With a maximum weight limit of 600kg it is able to manage the robust equipment used, the flexible modular design and accessories available to them means that workbenches are adaptable to the latest task being worked on. The height adjustability gives the benches an ergonomic aspect to the needs of the user.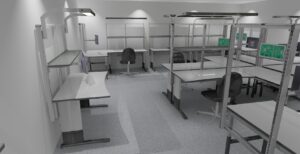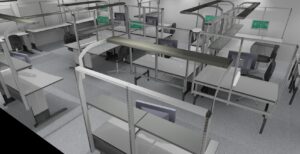 In Production and Assembly, it was decided that the customer was going to move away from their old style of all the assembly processes occurring on the same bench to a new system of a single process per workstation to create a better flow and increase production levels. This would mean that in this ESD protected environment they would require a variation of accessories for each differently configured workstation according to the task that was going to be performed. As a result of this the Classic Kaisertech ESD Workbench were selected with various accessories including perforated panels, LED task lighting, Shelving, and Storage.
Setting up the singular processes on separate benches has enabled:
Good process focus for the operators
Changes to tooling
Process step changes to be made quickly and effectively, making life for the operators easier, quicker and minimising mistakes.
Since the workstations were delivered our customer has reconfigured many of the workbenches as the processes have evolved. This is natural in manufacturing and the Kaisertech benches have allowed this flexibility through their modularity. Splitting manufacturing into smaller steps on Kaisertech benches has allowed the flexibility to increase throughput by adding more personnel when needed.
For any more information on our range of ESD workstations CLICK HERE or to contact us to discuss any questions CLICK HERE