ESD Clothing & Workwear
Antistatic clothing is an essential part of many electronic production companies, along with various other industries and should always be seen as another vital aid in ESD protective areas.

Static control products are there to minimise effects of electrostatic charges being built up from non ESD clothing. ESD Polo Shirts allow comfortable and lightweight work wear and to some can be less restricting then antistatic overalls/ESD coats. Also another feature is that ESD Polo Shirts are available in short or long sleeved so an option all year round.

Anti static ESD Trousers are a great solution to accompany your ESD Polo Shirts or Antistatic T-shirts to finish off the look! Finally don't forget - Your company logo can also be embroidered and is great for image and branding.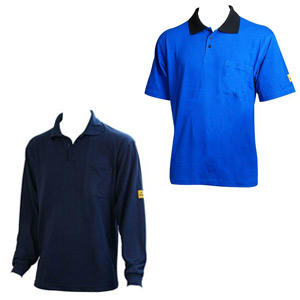 £25.00 (exc VAT)

(£30.00

inc VAT)

£28.00 (exc VAT)

(£33.60

inc VAT)

£25.00 (exc VAT)

(£30.00

inc VAT)
£25.00 (exc VAT)

(£30.00

inc VAT)

£1.20 (exc VAT)

(£1.44

inc VAT)

£1.20 (exc VAT)

(£1.44

inc VAT)
£18.00 (exc VAT)

(£21.60

inc VAT)

£60.00 (exc VAT)

(£72.00

inc VAT)

£5.00 (exc VAT) (£6.00 inc VAT)

Was: £6.00 Save £1.00