Top 10 Reasons You Should Buy JBC


For over 80 years, JBC have pioneered the technological advancements in soldering and rework tools within the electronics industry.
JBC deliver innovation, efficiency and reliability with each of their products, having designed them to satisfy even the most demanding of soldering requirements.
Read below for the key reasons why you should choose JBC over any other soldering brand…
---
---
Here are our top 10 reasons why you should buy a JBC soldering station:
1. Low Temperature Soldering:
By working with lower soldering temperatures, you reduce the risk of causing damage to components. Equally, you also improve the quality of your soldering or desoldering applications. The high power/ mass ration cartridges and integrated heater/ thermocouple ensures delivery of the very best thermal recovery on the market.
Tips from JBC only drop around 30ºC, where most other brands see a drop off of around 70ºC. This allows for a reduction of temperature by at least 50ºC.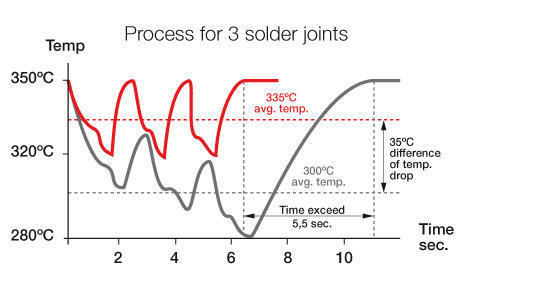 2. Quick Temperature Recovery
The exclusive heating system from JBC allows the tip to recover temperature extremely quickly. This allows the user to work within lower temperatures and increases their work efficiency.
The principles of this heating system are as follows:
| | | |
| --- | --- | --- |
| | | |
| JBC systems are capable of reaching 350 ºC in only 2 seconds. Some other brands require between 10-90 seconds to do so. | There is a fully integrated thermal sensor that ensures each of the tips have an extremely fast temperature recovery. | Thermal barriers are reduced thanks to the optimisation that is provided by the compact element (see table below) |
3. Outstanding Tip Life
Lasting up to 5 times longer as soon as the soldering iron is left in the stand, the tip temperature automatically drops to 180°C, decreasing oxidation and wear. When the soldering iron is taken out of the stand again, the working temperature is instantaneously reached.
PERKS OF JBC TIPS
Longer Tip Life – The lower soldering temperatures that can be achieved increase the tip life exponentially (as can be seen in the graph above. The sleep mode (explained below) further reduces the temperature and helps to extend the tip life up to 5 times longer than other leading brands.
Sleep Mode – When your tool is resting in the stand it automatically switches the tip into sleep mode. This will lower the tip to a temperature that below that of solder melting point, which helps to prevent dissolution of the tip.
Hibernation Mode – This takes it one step further. Configure a set time and after the tool has reached the desired level of inactivity the tool will enter hibernation mode. This cuts off the power to the tool, allowing the tip to return to room temperature, preventing oxidisation and saving energy in the process.
4. Improved Productivity
The JBC technology gives an 80% improvement over the performance of the best soldering station available in the market. This is mainly down to the quick-change function included on all stands and compact stations.
This function allows for the user to quickly change soldering tips in a safe manner. You can therefore exchange the cartridge without the need to switch off your station.
No tools needed to change the tip. Just place in holder, pull, and insert the new tip. Reduces your idle time while increasing operator safety.
5. Over 400 Available Cartridge Shapes
Your essential soldering consumables, with a broad selection of type and shape, JBC can cater for any soldering or rework application you may have. See the map of the full range here.
Each of JBCs tips are designed with the following principles in mind:
Excellent Heat Transfer Instantaneous Heat Up Elite Durability

6. Tools Designed For Comfort & Ergonomics

JBC provide a wide range of tools, specifically designed to provide the maximum efficiency in the most comfortable fashion. The short grip to tip distance provides the ultimate precision, coupled with their lightweight and minimalist design, you won't find another tool as ergonomic on the market.
7. Compact & Modular Systems
JBC can cater your soldering station directly to your application. Each of the units incorporate JBCs exclusive heating system (as detailed above) aiding in fast tip temperature recovery. Perks of these modular systems include:
Space savers due to the stackable modules.
Compatible with the full range of JBC tools.
Simple to use menu (explained further below)
For more on these JBC modular systems read our detailed article here. As a minimum you will require 1 control unit, 1 stand, 1 tool and 1 cartridge.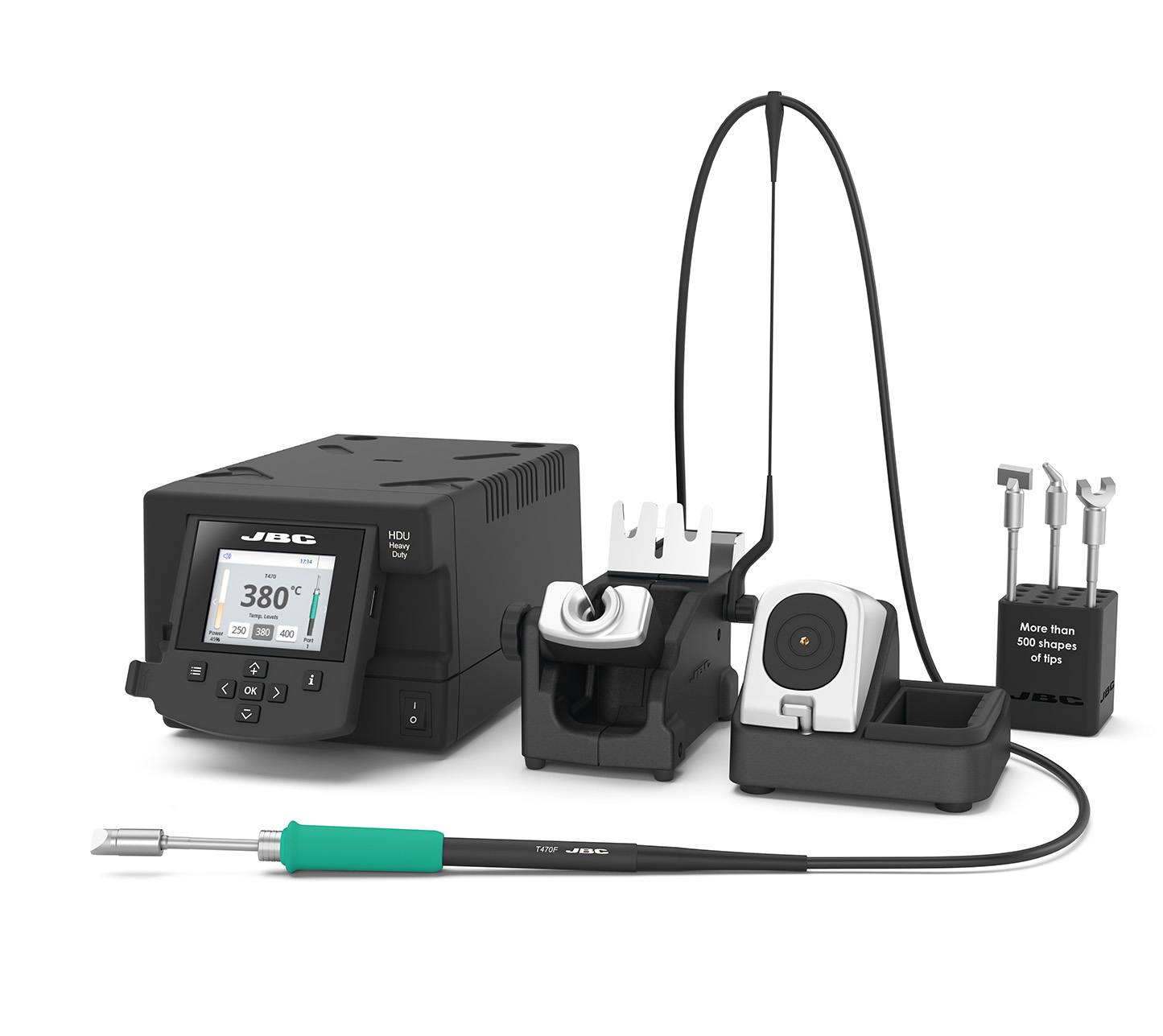 8. Simplistic Menu
Customise over 20 different parameters to help you better manage your soldering process. Everything from temperature limits, sleep & hibernation features, usage checks, and custom PINs to lock your station, easily accessible throughout the user-friendly menu.
Station Configuration – parameters can be set so that you can fully customise the way you work with your JBC unit.

Tool Presets – Allow settings to be different for each of the tools that you use.

Partial Counters – Check the usage and time cycles from simple to digest graphs accessible directly on the display.

Graphics – Analyse your soldering like never before. This helps you to choose the best tip for your application and monitor the quality of each soldering joint. See all of your power and temperature data as it happens!
9. PC Configuration
Manage and configure all of your JBC stations through JBC Web Manager. Access the station data remotely from any device, including PC, laptop, tablet or even your phone. Simply plug in the USB connection to your device and install the required JBC Station Controller Service.
10. Forefront Of Innovation
JBC strive to provide a solution to all soldering requirements, providing the innovative soldering solutions that your company require. Each year more and more products are updated and released.
Our agents are armed with the knowledge that can pair you directly to the optimal JBC equipment your application needs. Just give us a call on 023 8065 0065 or email us at [email protected].
---
TIME TO REACH 350° C
The graph shows responsiveness of a standard station compared to a JBC station.
A standard station needs between 10 and 90 seconds to reach 350oC, while any JBC station equipped with a T210 handpiece reaches the same temperature in only 2 seconds.
The superior responsiveness of the JBC system could not be clearer.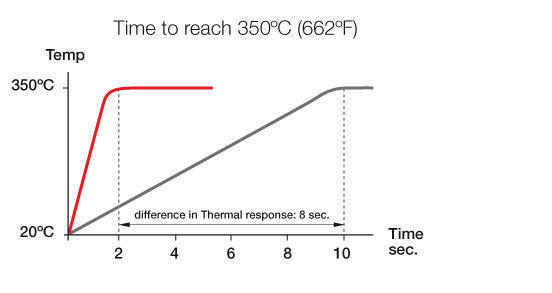 ---
PROCESS FOR 3 SOLDER JOINTS
This graph shows the same tool, performing a series of 3 solder joints.
Because of the lacking thermal response of the competing (grey) tool, the temperature drops 70° C compared to 30° C for the JBC tool.
This difference gets bigger as the solder job gets more demanding.
---
Sleep & Hibernation functions extends tip life up to 5x
JBC stations incorporate Sleep & Hibernation functions that lower tip temperature when tool is not used. As a result, tip life lasts up to 5 times longer. The sleep function automatically reduces
tip temperature to 180ºC when the iron is resting in the stand.

The station automatically goes into hibernation when the programmed time in Sleep mode is over. The power supply is cut off and tip keeps at room temperature.

A stand is required to activate both functions.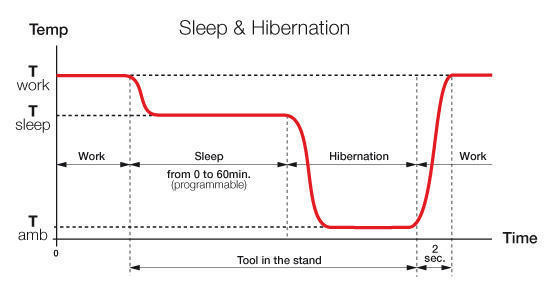 ---
Tip life increases exponentially by using lower tempearture during less time, as shown in the graph.

JBC tips last 5 times longer than other brands thanks to the Exclusive Heating System and the Intelligent Heat Management: Sleep & Hibernation functions.