Simco 4009890 / 91-GUARDD-UK01 Aerostat Guardian 3-fan Overhead Ioniser 230V
Air ionization maintains the integrity of components and subassemblies by neutralizing static charge generated during the manufacturing process or during transport to final test and assembly. Neutralizing static charge improves production yield and the quality of the product by 1) substantially reducing or eliminating the damaging effects of electrostatic discharge and 2) reducing the attraction of dirt and particles on the surface of the product. Our line of ionizing blowers are specially suited for final manufacturing applications from the smaller point of use ionizers that fit inside of tools to the larger benchtop and overhead ionizing blowers for larger applications such as mini-environments and benchtop assembly.
Sustainable Quality Overhead Ionizing Blower
Simco-Ion's Aerostat Guardian Blower provides superior static charge decay over an entire work surface area. Equipped with task lighting and an integrated heater, the Guardian offers user-friendly operation while effectively protecting sensitive components from ESD damage.
TARGET MARKETS
Electronics Assembly

Life Sciences
TARGET APPLICATIONS
The Aerostat Guardian controls static "overhead" by blowing ionizing air down on the product at a workstation to save workbench space.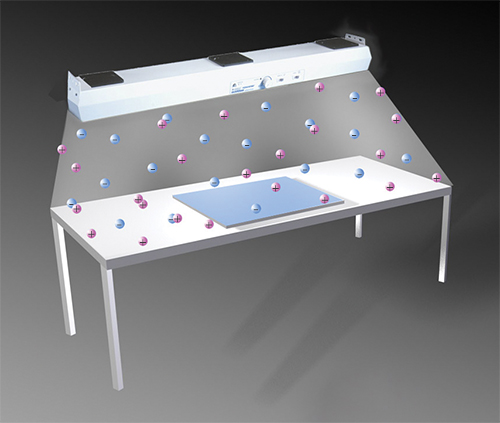 | | |
| --- | --- |
| Features | Benefits |
| • Inherently balanced to 0 ±10V | • Protects even the most sensitive electronic components |
| • Integrated heater and task lights | • User-friendly—enhances operator comfort and efficiency |
| • AC Technology | • Stable balance over extended periods of use |
| • Ionization light | • Verifies that the unit is ionizing |
| • Integrated manual emitter point cleaner | • Easy to maintain |