Simco 4008087 Aerostat PC with Heater, 230V, 50 Hz, CE
£450.00 (exc VAT) (£540.00 inc VAT)
Was: £470.00 Save £20.00

Sustainable Quality Benchtop Ionizing Blower
Simco-Ion's Aerostat PC Blower provides localized coverage with superior static charge decay efficiency. The Aerostat PC operates on AC technology and is designed to provide ionization to a targeted work surface.
Distinguished by its variable fan speed control, heater element, and emitter point cleaner, the Aerostat PC is an excellent choice for eliminating static in production processes. While helping to protect products and personnel from the effects of static discharge, the Aerostat PC is lightweight, small and quiet – making it easy for the user to direct the ionization where it is needed
| | |
| --- | --- |
| Features | Benefits |
| • Discharge time of 1.5 seconds at 1 foot | • Fast, targeted neutralization of static charges |
| • Lightweight, compact and quiet for unobtrusive use | • Directed ionization designed for workbench area |
| • Built-in emitter point cleaner | • Minimizes the time required to perform normal maintenance |
| • Variable speed fan for airflow control | • Matches ionization performance to the targeted work area |
| • Status lamp indicates high voltage is present at the emitter points | • Minimizes component loss due to unintentional ionization stoppage |
| • Integrated heater for warm airflow | • User comfort helps to insure that ionization remains on |
| • Optional fan air filter | • Protection for internal components from environmental contamination |
TARGET MARKETS
Electronics Assembly
Life Sciences
Back-End Semiconductor Processing
Flat-panel Display
TARGET APPLICATIONS
The Aerostat PC eliminates static charges on smaller target area like small parts as they drop into the vibratory feeder bowl. Neutralizing the parts prevents them from sticking together and clinging to the sides of the bowl.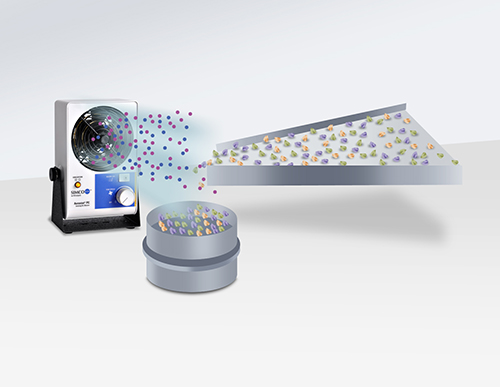 The Aerostat PC eliminates static charges with heated air on larger areas like workbenches.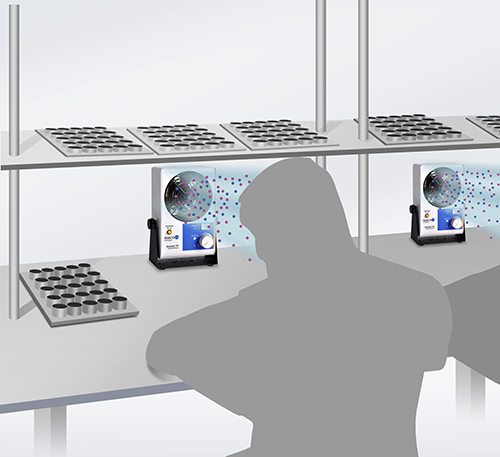 The Aerostat PC eliminates static charges on a flat benchtop.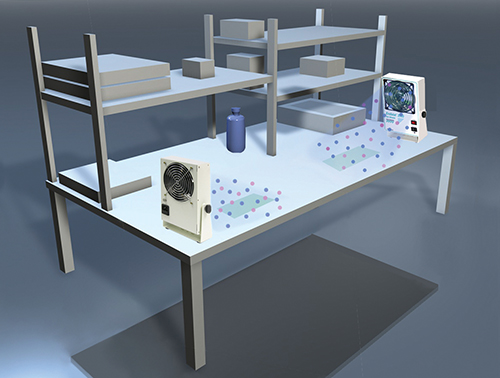 | | |
| --- | --- |
| Features | Benefits |
| • Discharge time of 1.5 seconds at 1 foot | • Fast, targeted neutralization of static charges |
| • Lightweight, compact and quiet for unobtrusive use | • Directed ionization designed for workbench area |
| • Built-in emitter point cleaner | • Minimizes the time required to perform normal maintenance |
| • Variable speed fan for airflow control | • Matches ionization performance to the targeted work area |
| • Status lamp indicates high voltage is present at the emitter points | • Minimizes component loss due to unintentional ionization stoppage |
| • Integrated heater for warm airflow | • User comfort helps to insure that ionization remains on |
| • Optional fan air filter | • Protection for internal components from environmental contamination |
General Specifications
Input Voltage
120 VAC, 60 Hz: 1.7A (fan high, heater on); 0.1A (fan low, heater off)
230 VAC, 50 Hz: 0.9A (fan high, heater on); 0.05A (fan low, heater off)
Discharge
1.5 sec @ 1'
2.5 sec @ 2'
4 sec @ 3'
6 sec @ 4'
from blower center, fan high (1000-100V), typical
Balance
±10V @ 1'
Coverage Area
1' x 5'
Dimension
8.625"H x 5.5"W x 3.25"D (14 x 22 x 8.4 cm)
Weight
5.7 lbs (2.6 kg)






Input Voltage

VAC, 60 Hz: 1.7A (fan high, heater on); 0.1A (fan low, heater off)

VAC, 50 Hz: 0.9A (fan high, heater on); 0.05A (fan low, heater off)

Discharge1

1.5 sec @ 1' (30 cm) (1000-100V) fan high

Balance

±10V @ 1' (30 cm)

Ion Emission

AC Ionization

Emitters

Stainless Steel emitter points

Coverage

1' x 5' (30 x 152 cm) area

Controls

HEATER ON/OFF switch; BLOWER ON fan speed control knob

Indicators

Orange IONIZATION STATUS

Airflow

35-70 cfm

Heated Air Temp

Fan High: 12-15°F (7-8°C) above ambient; Fan Low: 6-8°F (4-5°C) above ambient, measured at 12" (30 cm) in front of blower (Heater optional)

Audible Noise

Fan speed low 50 dB; fan speed high 57 dB at 2' (61 cm) from unit

Air Velocity2

1' 2' 3' 4'

Fan Low: 250 200 150 125

Fan High: 500 400 300 250

Operating Env.

Temperature 59-95°F (15-35°C); humidity 30-70% RH, non-condensing

Ozone

0.005 ppm measured 6" (15 cm) in front of unit; test conducted in accordance with

EPA EQQA-0577-019 using Dasibi Ozone Monitor Model 10030AH

Air Filter

ppi open cell polyurethane foam (optional)

Mounting

Metal Mounting Stand/Bracket included

Enclosure

Aluminum/Polyester Epoxy

Weight

5.7 lbs (2.6 kg)

Dimensions

8.625"H x 5.5"W x 3.25"D (14 x 22 x 8.4 cm)