Simco Aerostat 91-XC2 Ionizing Blower

Extended Coverage Benchtop Ionizing Blower with Fan-stalled Indicator
Simco-Ion's Aerostat XC2 Blower provides complete wide area ionization protection and is designed and built for reliable, long-term static control. The XC2 offers outstanding coverage for larger areas with <12 second discharge times at 6 feet (1.8m) distance from the face of the blower. The weight-saving design allows the Aerostat XC2 to be mounted above the work surface, which is especially effective for flat-panel display module assembly.
| | |
| --- | --- |
| Features | Benefits |
| • Large, near symmetric Ionization area coverage | • Designed for complete static neutralization across the entire work surface area |
| • Weight-saving design | • Light enough to be easily mounted on or above the work surface |
| • Easy to use, built-in emitter cleaner | • Ensures consistent, balanced performance over a long time |
| • ±10V self-balancing ("Micropulse") technology | • Long-term balance stability |
| • Local alarm LEDs, Facility Monitoring System (FMS) connection and optional audible alarm | • Ionization status can easily be monitored locally and at a remote location |
TARGET MARKETS
Electronics Assembly
Life Sciences
Back-End Semiconductor Processing
Flat-panel Display
TARGET APPLICATIONS
The extended coverage of the Aerostat XC2 combined with its' lightweight design is perfect for neutralizing static charge from overhead and other large target areas.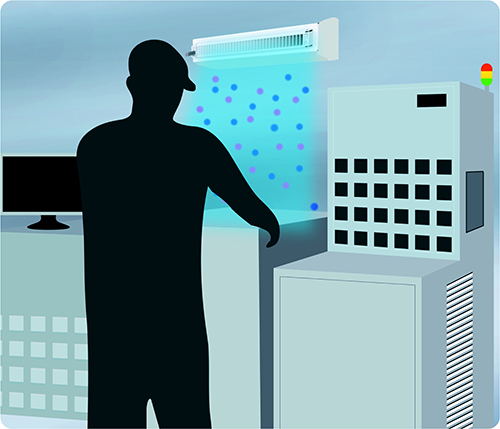 The Aerostat XC2 reaches an extended coverage area across the worksurface without sacrificing excessive work space.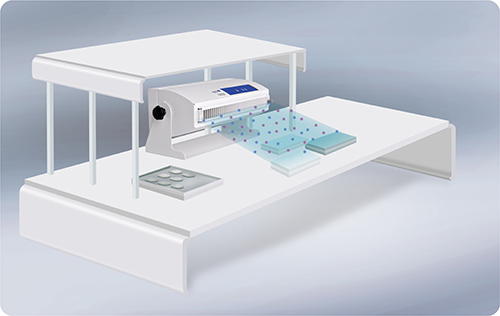 For additional information on the Aerostat XC2 Blower or other ionization solutions for static control and particle contamination control, contact Sales.
General Specifications
| | |
| --- | --- |
| Input Voltage | 100-240 VAC, 50/60 Hz; 0.5A (no heater), 3.5A (100-120 VAC heater); 1.9A (220-240 VAC heater) |
| Discharge | 1.0 sec @ 1' (1000-100V high fan speed) |
| Balance | 0 ±10V |
| Coverage Area | 3'W x 6'L (effective coverage area is up to 6' from the blower face) |
| Cleanroom Class | Meets ISO 14644-1 Class 6 (Fed Std. 209E Class 1000) |
| Dimensions | 14.13W x 7.2H x 6.55D in. (35.9W x 18.3H x 16.6D cm) with stand |
| Weight | 7 lbs (3.2 kg) with stand |








| | |
| --- | --- |
| Input Voltage | 100-240 VAC, 50/60 Hz |
| Input Current | 0.5A, 55W max (no heater); 3.5A, 420W (with 100-120 VAC heater); 1.9A, 460W (with 220-240 VAC heater) |
| Discharge | 1.0 sec @ 1' 1' (30 cm) (1000-100V high fan speed)1 |
| Balance | 0 ±10V |
| Coverage Area | 3'W x 6'L (91 x 183 cm) (effective coverage area is up to 6' from the blower face) |
| Ion Emission | Micropulse AC Ionization |
| Emitters | Stainless Steel emitter points |
| Controls | Power on/off, fan speed control low/medium/high, emitter point cleaner push button, balance adjust, heater on/off (optional) |
| Indicators | Green POWER on, red FAULT alarm, red FAN STALL alarm |
| Connectors | IEC AC Power Cord outlet, FMS fault alarm output connector |
| Air Volume | 95 cfm (low), 150 cfm (high fan speed) |
| Air Velocity2 | 620 fpm @ 12", 435 fpm @ 24", 325 fpm @ 36", 265 fpm @ 48" (high fan) |
| Heated Air Temp | 4-5°F (2-3°C) above ambient, measured at 12" (30 cm) in front of blower (optional) |
| Audible Noise | 58 dB (low fan speed), 70 dB (high fan speed) measured at 2' in front of blower |
| Cleanroom Class | Meets ISO 14644 Class 6 (Fed Std. 209E Class 1000) |
| Ozone | <0.05 ppm measured at 1' (30 cm) in front of blower |
| Operating Env3 | Temperature 50-95°F (10-35°C), humidity 30-60% RH, non-condensing |
| Audible Alarm | Fault and fan stall (optional) |
| Mounting | Powder-coated steel stand with skid resistant rubber feet |
| Enclosure | Powder-coated aluminum chassis |
| Dimensions | 14.13"W x 7.2"H x 6.55"D (35.9 x 18.3 x 16.6 cm) with stand |
| Weight | 7 lbs (3.2 kg) with stand |
| | |