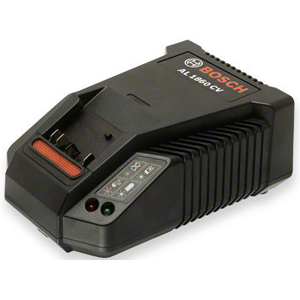 Bosch AL 1860 CV Battery Charger Li-Ion

Bosch AL 1860 CV Battery Charger Li-Ion
Product Information
The Li-Ion Quick Charger completely charges Bosch Li-Ion batteries to 100%.
18 volts / 2.0 Ah in 30 minutes
18 volts / 4.0 Ah in 45 minutes
18 volts / 5.0 Ah in 65 minutes
The AL 1860 CV includes Bosch's intelligent charging technology as well as active air cooling for your batteries - not only will the charger cool down heated batteries back to operating temperature but it will also dynamically charge the battery at the same time ensuring top battery health.
The Delta-Voltage charger from Bosch quickly charges the battery and constantly regulates itself. When a battery begins to overcharge, the charger detects a characteristic voltage drop that is known as negative delta voltage. This value is used to trigger a drop in the charge current or to adjust the current down to a trickle charge, which prevents overcharging. The battery lifetime with this charger is about 1,400 to 1,500 charge/discharge cycles.