Hios Spike Bit
£65.63 (exc VAT)
(£78.76
inc VAT)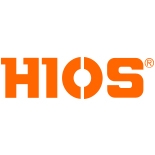 Best for removing screws from sophisticated parts such as in hard disks, etc.
A special spike on the bit tip firmly secures the stripped cross-recessed screw head digs in to it and removes the screw.
Screws can be removed even though the cross-recessed screw heads are completely deformed.
Since the Spike Bit does not cam out, other components are not damaged while removing screws.
Screws can be removed easily even though the thread locking agent or adhesive has been applied.
The compact design grip easily fits into the hand of an operator. It saves space and is the most appropriate tool for removing screws located in deep.
General Specifications
The tip is sharp and catches the screw easily because of the spike shape (nail shape)
The four points of the Spike Bit catch the stripped cross-recessed head and digs into it.
Twist the driver bit by aligning it with a stripped cross-recessed head, push it down gently, and find the position to hold (cavity).
Once the hold position (cavity) is confirmed, push the bit vertically, turn it fully and remove the screw.
Colour - Yellow, Red, Blue
Compatible Screwsize - M1.2-M1.4(Yellow)M1.4-M1.7( Blue)M1.7-M2.0 Specifically for #0(Red)