15% Off Vision Systems Until 12/01/2024!

15% Off All Vision Systems This End Of Year!

Has A New Vision System Been On Your Radar?
If you have been looking to improve your optical inspection equipment, now is the time!
We have a discounted promotion running on Vision Engineering's entire range of market-leading vision systems.
Running from 13th November until 12th January 2024, we can offer 15% off on complete vision systems, including LUXO bench magnifiers. Learn more below.
Promotion Details
Starting 13th November, and running through until 12th January 2024, we will be offering 15% off of the Vision Range. This spans across Vision's catalogue of both stereo and digital microscopes, along with the Luxo bench magnifiers.
The promotion only applies to complete systems, and not single items purchased or requested separately.
A lot of these products are marked as "Call For Price" on our website. However, when you contact our team, we will be able to provide you this discount when you receive your quotations.
Regarding some of the products that are directly available for purchase on our website, such as the bench magnifiers and VE CAM systems, we have created a discount code to be used at checkout.
Where applicable, if you enter "EOY23" at checkout, your 15% discount will be applied to purchases of Vision Engineering systems whilst this promotion runs.
As stated above, this promotion applies across Vision Engineering's vast range of microscopes.
However, there is one limitation. The old version of the Mantis has been excluded from the promotion.
As an alternative you can still get a discounted rate on the new generation of Mantis, which you can read more about below.
Microscopes Included In The Promotion
Vision Engineering has an expansive range of microscopes, both stereo and digital to cater for a wide variety of industries.
Below are 4 of the more popular options within the Vision product range:
Third Generation Of Mantis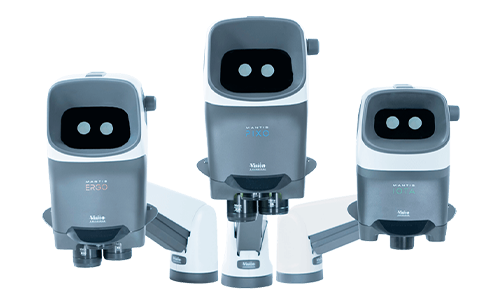 The Mantis range of Vision stereo microscopes received an update earlier this year, adding significant optical and operational improvements to one of their flagship systems.
It offers supreme operator comfort and excellent 3D imagery, thanks to the eyepeiceless viewing, dynamic viewing optics and much more. 3 Versions of the Mantis are PIXO, ERGO and IOTA.

Benefits
3x to 15x magnification
No eyepiece, which helps to provide superb and clear imagery on subjects, more than what is possible through conventional binocular microscopes.
Superior ergonomics in regards to viewing angle and optics help to provide fatigue-free viewing.
Option for fully integrated digital camera with the Mantis PIXO option.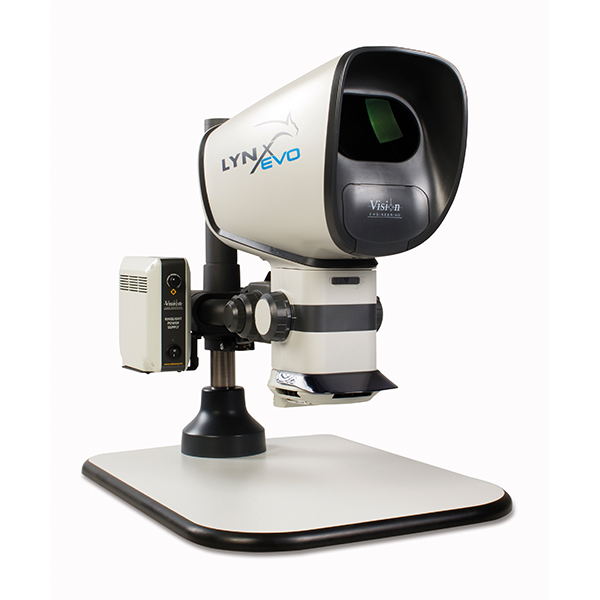 An advanced stereo microscope, providing the ideal high-res solution for intricate tasks. Along with stunning visuals, the Lynx EVO provides an eyepiece-less 3D view, helping to eliminate productivity and efficiency.

Benefits
6x - 60x magnification and a 10:1 zoom ratio.
Integrated HD camera and software, allowing for both image and video capture, along with annotations.
A long working distance, providing ideal conditions for conducting work under magnification.
Eyepeiceless viewing, allowing for fatigue-free viewing.
EVO CAM II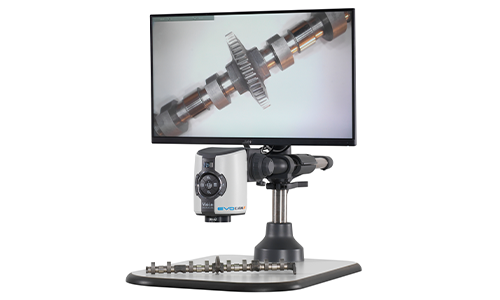 A both powerful and versatile HD digital microscope, with flexible configuration options. This allows you to cater your vision system directly to your requirements whether that be with a 360 rotating viewer.

Benefits
0.8x - 750x magnification options
A fully HD solution for extraordinary image quality.
Modular design, allowing you to spec your EVO CAM II Directly to your specifications.
Simple image capture at the touch of a button.
VE CAM 50/80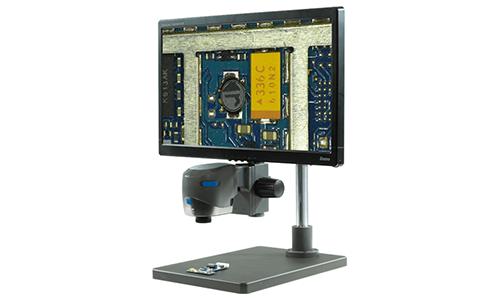 The VE CAM is Vision's most cost-effective digital solution. It is full HD as standard and is one of the more compact systems available, providing a fast and accurate inspection for any application.

Benefits
6x – 99x magnification range.
Compact to ensure minimal clutter on your workspace.
6 hotkeys that give access to pre-sets – thus improving your efficiency.
Built-in ring light.
Use Our Helpful Configurator To Build Your System

Our Vision configurator is there to help you build your microscope set-up, piecing together everything that you need for a complete system.
Using this you can easily shift through the different systems available, along with seeing a short description of each unit.
As you go through your selection, the configurator will filter down to show you the accessories and options that are compatible with the system you have chosen.
Currently, we have the entire Mantis family, along with the EVO CAM II range, with more to be added soon…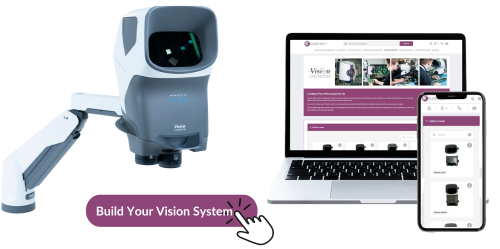 To learn more about any of the Vision systems, or this discount, get in touch with our team today.
Our team can provide quotations, advice and expertise to find the right solution for your application.
Call us on 023 8065 0065 or email our team at [email protected].
---