Hios CL-7000 Electric Screwdriver - Lever Start | 0.3 - 2.5Nm
£425.00 (exc VAT)
(£510.00
inc VAT)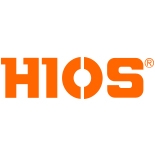 Product Information:
Well suited for many kinds of operations requiring a wide range of torque values
This screwdriver has been a long-selling product thanks to its operability, reliability and stability.
With low DC voltage these screwdrivers can be used safely.
The grip design helps operators to reduce fatigue caused by long hours of operation.
Straight trigger start electric and reversible screwdrivers
External torque adjustment
Auto shut off
Output Torque Range: Nm 0.3 - 2.5, lbf in 2.6 - 22, (kgf cm) (3 - 25)
Speed 750rpm
Screw Size: Small Screw Size 2 - 5mm Tapping Screws 2 - 4mm
Torque setting stepless
1/4 Hex Bit
*For our larger range of Hios drivers visit Kindustrial.
---
| | | |
| --- | --- | --- |
| Output Torque Range | N・m | 0.3-2.5 |
| | lbf・in | 2.6-22 |
| | kgf・cm | 3-25 |
---
Suction (Vacuum) attachments are available for this unit
General Specifications
Start
Lever Start Type
Output Torque Range
N・m
0.3-2.5
lbf・in
2.6-22
kgf・cm
3-25
Torque Switching
Stepless Adjustment
Unloaded Rotation Speed(r.p.m)
High
750
Screw Size(mm)
Screw size
2-5
Tapping
2-4
Bit (selectable)※
Hios shank
H5
Hex shank
1/4HEX or 5HEX
Power Supply
Model
T-45BL
T-70BL
External Dimensions(mm)
Grip
37
Length (mm)
255
Accessories
Bit:
H5

+#1(φ5.0×60mm)

+#2(φ5.0×60mm)

1/4HEX
+♯1 (5.0×50mm)
+♯2 (5.0×50mm)
- (5.0×50mm)
Spring
Yellow
Cord length(m)
2m(5p)
Carbon brush order code
CL65-0490(1pair)
Torpue Range Table
Frequently bought together