JBC JTSE-2A Hot Air Station
£1,500.00 (exc VAT)
(£1,800.00
inc VAT)

The JBC JTSE is a high powered hot air Station capable of reworking all types of SMDs. Watch video above for examples.

The combination of the exclusive JBC hot air system with protectors, tripods and extractors ensures desoldering components easily and safety, concentrating the heat on the selected component as show:

Desoldering with JTSE station

1. Placing
Choose the extractor, or protector and tripod, which best fits the component.
2. Heating
While you apply the heat to the component, the surrounding elements are protected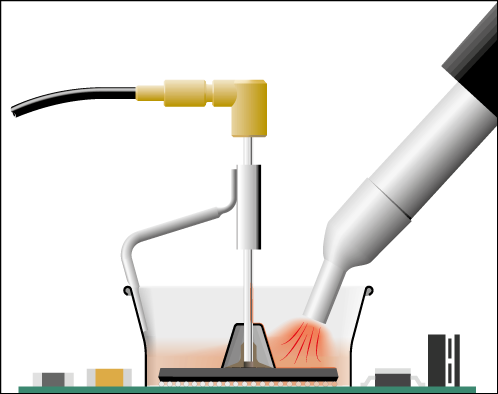 3. Extracting
Automatic withdrawal of the desoldered component.

Connecting an external thermocouple provides a high-precise close-loop control of the component/PCB during the rework process or can also be used to protect a component or a specific area of the PCB.

As all the JBC Stations, the JTSE has a menu with more than 10 parameters to customise the control unit.
This is a high powered hot air station for repairing all types of SMDs quickly and safely, including the biggest QFPs and PLCCs.

Two work modes
You can set the temperature values and air flow rate manually or by creating your own profiles(up to 25).

Control thermocouple
Read the temperature at a specific point on the PCB with the control thermocouple. It helps
protect the components or a specific area on the PCB and provides greater precision when regulating the temperature.

Auto-stop function
A safety measure which ensures the heat is automatically cut off when the tool is in the JT-SD stand.

Supplied with the extractor desk.
General Specifications
| | |
| --- | --- |
| Weight | 5.443 kg (11.99 lb) |
| Dimensions (Control Unit) | 148 x 184 x 140 |
| Voltage (AC) | 230V / 120V / 100V |
| Input Fuse | 4A (230V), 8A (120V and 100V) |
| Nominal Power | 700 W |
| Temperature selection | Room Temperature / 150-450 ºC (300-840 ºF) |
| | Cool mode: temp. Off |
| Ambient operating temp. | 10-40 ºC (50-104 ºF) |
| Air Flow Regulation | 10 - 50 SLPM |
| Vacuum | 30% / 228 mmHg / 9 inHg |
| Rated Current | 3A (230V), 6A (120V), 7A (100V) |
| Communication connectors | USB-B |
| Pedal connection | P-005 Pedal |
| | |
| ESD Safe | |
| Package weight | 6.526 kg (14.38 lb) |
| Package dimensions | 474 x 368 x 195 mm |
Frequently bought together