Discontinued
Sorry – this product is no longer available, although you may find similar or newer versions below:
Vision Engineering VisionZ2 - Full HD Video Inspection System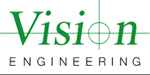 Real time precision video inspection with the power of full-HD (1080p) digital imaging. VisionZ2 has magnification options up to 122x and provides superb high contrast imaging, with ultimate simplicity for any task requiring precision magnification.
High resolution full-HD 1080p imaging
Range of zoom magnification options, up to 122x
Integral image capture via USB
Suitable for production environments, VisionZ2 combines exceptional live 1080p imaging with effortless simplicity, making VisionZ2 ideal for a very wide range of precision magnification tasks.
VisionZ2 video inspection is great for production areas: R&D, laboratory, micro assembly, electronics, micro mechanics, automotive, dental technology, medical device, forensics, quality control tasks, presentation and training.
VisionZ2 now includes integral image capture via USB, in a compact, standalone system - without the need for a PC.
Highlights
Exceptional full HD 1080p high contrast imaging for superior inspection.
Integral image capture via USB.
Extremely large field of view
(295mm with standard 4D lens).
Large working distance – up to 333mm.
Zoom magnification options up to 122x.
Large monitor image - ideal for training, evaluation, development etc.
Superior digital inspection
Quality, simplicity and superior optical performance are the key to VisionZ2's success.
At the heart of VisionZ2 lies an exceptional high performance full HD (1080p) camera, providing truly amazing high contrast images.
Naturally, perfect imaging is extremely desirable, but equally important is a 'live' image. VisionZ2's image rate of up to 60 fps (frames per second) provides ultimate optical performance, far superior to most television images (which have an image rate of 25 fps), so there is no delay, no image lag, essential for performing tasks under magnification.
With an extremely large field of view, large working distance and zoom magnification options up to 122x, VisionZ2 is the professional choice for digital inspection.
General Specifications
Optical data
Lens
Magnification
range*
Working
distance
Field of view
min. magnification
(width x height)
Field of view
max. magnification
(width x height)
3D
1.3 - 36x
(71x digital)
333mm
390mm x 226mm
14.2mm x 7.9mm
(8mm x 4mm digital)
4D
1.8x - 50x
(98x digital)
250mm
295mm x 172mm
10.3mm x 5.7mm
(5mm x 2.8mm digital)
5D
2.3x - 62x
(122x digital)
200mm
234mm x 137mm
8.2mm x 4.6mm
(4mm x 2.2mm digital)
* with 24" monitor.
Note:
4D lens standard option with Benchtop stand.
5D lens standard with Struktura stand.
Specifications
Camera resolution
Full HD 1080p (1920x1080)
Connections
HDMI out
Focus
Auto / manual
Illumination
Adjustable LED illumination
Dimensions
Benchtop stand:
410mm (d) x 240mm (w) x 350mm (h)
Struktura stand:
Height 700m; Max. reach 800mm
Weight
Benchtop stand:
2.5kg
Power supply
100/240V, 50/60Hz
Power consumption
8 Watts
Recommended monitor*
16:9 | DVI & HDMI
Response time: 5ms | Signal: Full HD 1080p
* Available with, or without monitor. Contact your Vision Engineering representative for recommended monitors.
Control functions
Zoom in/out
Overview
Brightness
High contrast mode
Crosshair size / colour
Image capture
Dimensions
A = 350mm max.
B = 300mm (less working distance)
C = 240mm
D = 410mm